As taught by Paramhansa Yogananda
Kriya Yoga is a meditation technique that quickly accelerates one's spiritual growth. It became widely known through Paramhansa Yogananda's Autobiography of a Yogi. According to Yogananda, Kriya is the most effective technique available to mankind today for reaching the goal of Yoga: union with the Divine. Ultimately, it's more than a technique; it's a spiritual path that includes other practices, right living, and discipleship to the Kriya line of spiritual teachers, or gurus.
Learn
Kriya Yoga Meditation
Next Level 1 Introduction to Kriya Yoga
7, 8, OR 12 Oct
2:00 – 6:00 pm
English & Tamil
This Week at Ananda Chennai
All are Welcome! Join us on Sundays at 10 am for chanting, affirmations, meditation, prayers & an inspirational talk.  In-Person & Online.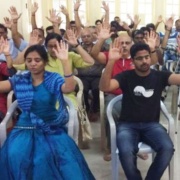 Watch previous videos of Sunday Satsangs by Nayaswamis Dharmarajan & Dharmini, Ananda Chennai's Spiritual Directors and more. 
View our calendar for the latest meditation & how-to-live classes, Wednesday night classes, spiritual retreats, group meditations, & more!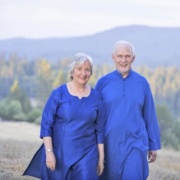 Weekly spiritual inspiration by Nayaswamis Jyotishji and Deviji, Spiritual Directors of Ananda Sangha Worldwide
Welcome to Ananda Chennai
Ananda Sangha in Chennai aspires to share the teachings and practices of our guru, Paramhansa Yogananda, and to provide a spiritually supportive environment where devotees can experience inner peace and harmony, divine friendship and community, and learn to lead a spiritually balanced life.
We offer satsangs, meditation classes, group meditations, spiritual "how-to-live" classes, yoga asanas and more on a regular basis. Please join us and feel free to contact us.
Learn more about Ananda India and Ananda Worldwide.
"Kriya, controlling the mind directly through the life force, is the easiest, most effective, and most scientific avenue of approach to the Infinite."
—Paramhansa Yogananda
(Author of Autobiography of a Yogi)
Ananda's worldwide mission is to help people of all faiths gain an increased awareness of God's loving presence in their lives.