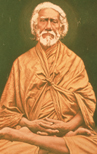 Sri Yukteswar was born to a wealthy business man and his wife on May 10, 1855, in Serampore, India. He was given the name Priya Nath Karar.
Upon leaving college, he married and had a daughter, and in 1884 he became a disciple of Lahiri Mahasaya. After the death of his wife, Priya Nath Karar became a Swami and received the name Sri Yukteswar Giri.
He met Babaji, the guru of Lahiri Mahasaya, in 1894.  Babaji told him that one day he would send Sri Yukteswar a disciple who would share the teachings of yoga in the West. This disciple turned out to be Paramhansa Yogananda, who is best known for his book, Autobiography of a Yogi. Babaji also asked Sri Yukteswar to write a book on the essential unity of the Bible and Bhagavad Gita, the most well-known scripture in India. Sri Yukteswar titled this book The Holy Science.
Sri Yukteswar founded two hermitages, one of which was his family home given to him by his father as his inheritance. In the last year of his life, Sri Yukteswar turned over all his properties to Paramhansa Yogananda, asking him to find someone to maintain them.
Sri Yukteswar left his body on March 9, 1936. Soon after, he appeared to Yogananda and described to him the nature of the afterlife. This description can be found in Autobiography of a Yogi.
Paramhansa Yogananda was trained for his mission in the West by his Guru Swami Sri Yukteswar of Serampore, India. Like Yogananda, Yukteswar belonged to India's ancient Swami Order of monastics. Yogananda lovingly bestowed a title of Gyanavatar to his Guru, which means "Divine Incarnation of Wisdom," for that was Sri Yukteswar's hallmark:
"His every utterance was measured and chiseled by wisdom. A sublime self-assurance marked his mode of expression: it was unique. He spoke as none other in my experience ever spoke. His thoughts were weighed in a delicate balance of discrimination before he permitted them an outward garb. The essence of truth, all-pervasive with even a physiological aspect, came from him like a fragrant exudation of the soul. I was conscious always that I was in the presence of a living manifestation of God."
—Paramhansa Yogananda, Autobiography of a Yogi
Swami Sri Yukteswar was a disciple of Lahiri Mahasaya.